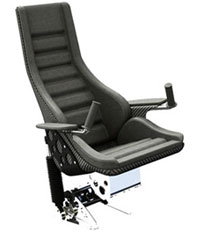 Unsurpassed comfort and safety for extreme performance boats.The Daytona Seat is a monocoque carbon fibre shell with neoprene or leather upholstery.
The shell is ergonomically designed to follow the shape of the body and put the user in the best position possible.
It features therevolutionising new DDSuspension System (DDSS) which provides 15cm of travel and optimal lateral suspension.