The new Scorpion Strike, was revealed for the first time at the Southampton Boat Show.  It is an new step in RIB development with its attention to economy and ecology.
It was obvious that here was a stunning new boat – the Strike had taken RIB's to a new level and, if it handles as Scorpion claims this is a real World Class RIB.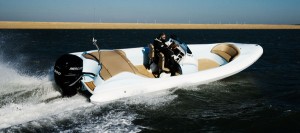 The RIB has been a joint development with RIBCO of Athens, a long time associate of Scorpion.  They bring their years of practical experience with RIBs and engine setups as well as a wider perspective of the market beyond the UK.  They also provide a testing ground far from prying eyes in the Solent.  It also marks the start of a relationship between Scorpion and Ullman of Sweden, world leaders in shock mitigation and best known for their seats which are well used by the military, in particular Special Forces, and Coast Guards around the world.