Seawork International is Europe's largest commercial marine and workboat exhibition.
Seawork is regarded as the industry's one-stop-shop, providing buyers, legislators and influencers with direct access to the commercial marine and workboat market, its products, its innovations and its people, for three invaluable days every June.
Since 1998 Seawork International has delivered a unique on-shore and on-water trade exhibition. Nowadays, Seawork comprises an exhibition, conference and awards, attracting over 7,600 industry professionals, 10,000 products and services, together with over 70 vessels.
Seawork International will return 13-15 June 2017 at the prestigious Mayflower Park venue in Southampton, UK.
You can find us and our seats at stand PG157. Welcome!
Below are boats that will be displayed on Seawork featuring Ullman Seats.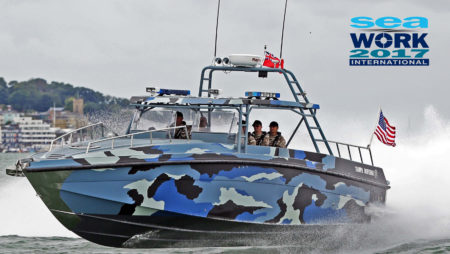 44FCI (FAST COASTAL INTERCEPTOR) – Tampa Yacht Manufacturing

Stand: VA01
44FCI Specifications
LOA:  43′-3" (13.18 m)
BEAM:  10′-9″ (3.36 m)
DEADRISE:  21 degrees
WEIGHT (lightship):  23,800 lbs (10,795 kg)
DRAFT:  3'-4″ (1.02 m)
MAX. HP:  1,600 hp
FUEL CAPACITY:  400 gal (1,514 L)
SEATING CAPACITY:  6 persons
TOP SPEED:  50+ kts
CRUISE SPEED:  38 kts
RANGE (full load):  300 nm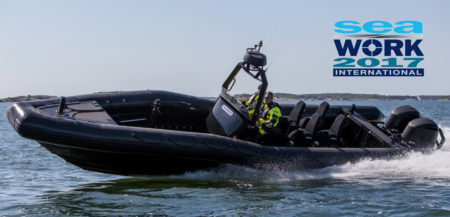 PALFINGER PB 1100 G RHIB – Palfinger Boats
Stand: VB09
LOA: 11.5m
BOA: 3.05m
Engine(s): 2 x 300hp
Top Speed: 60 kts
Dry Weight: 3.2tns
Capacity PAX: 6 seated

RESCUE 75 by STORMER WORKBOATS
Stand: VA34
The Stormer Rescue 75 is a versatile vessel that can be used for many activitities that demand absolute robustness.
Rescue services, operations of special police forces, diving assistance, harbour duty, coastguard duty, other patrol services: the Rescue 75 is suitable for numerous offshore related jobs. The big foam fender gives this genuine Stormer RIB qualities, but with far less maintenance.
Depending on your demands powered by single or twin outoard engines. A class notification on the aluminum hull is possible.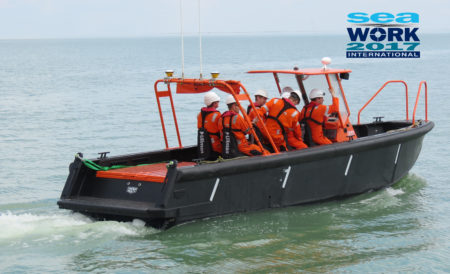 RBB 800 CREW TENDER BY TIDEMAN BOATS
Stand: VA34
LOA: 8.80m
BOA: 2.50m
Draft: 0.50m
Weight: 3000 kg
Payload: 800 kg
Engine: 2 x Yanmar 4LHA-DTP
Propulsion: 2 x Alamarin 245 Water Jet
Power: 2 x 200hp
Fuel: Diesel
Tank: 2 x 200 liter
Speed: 38 knots
Range: 100 nm
Seats: 8 Ullman Compact Jockey Seats
Options: T-top, A-frame, Bimini
CARSON INTERCEPTOR by PROBOND MARINE 
Stand: VA39
CARSON Interceptor Class
The new Carson Interceptor Class designs are available in three sizes, 7.5, 8.5 and 9.5 metres.
Primarily for the professional market they will also make a great choice for the serious enthusiast.
– CARSON deep V gull wing hull with stabilising and wave deflecting chines and squared bows at deck in addition to semi wave piercing bows and hull steps.
Together these combined features will give a smoother and more stable ride in all conditions with less power sucking porpoising and yawing in a seaway.
In addition the semi wave piercing bow will provide a longer waterline producing higher speed for a given power and enable the hull to slice through chop and waves.
It is designed to slice through moderate size waves offering a more comfortable ride for the crew and passengers.
Combined with the proven distinctive Carson bow with broad spray rails beginning from the stem, it will still behave in a more conventional manner in larger waves offering above average reserve buoyancy thus minimising potential bow stuffing and at the same time keeping the spray clear for a drier ride. Carson are well known for their safety, stability, dry riding ability and excellent all round performance coupled with great handling characteristics.
.Built to heavy-duty commercial and military specifications as per usual CARSON build quality all boats will have CE Certification and or MCA Coding.