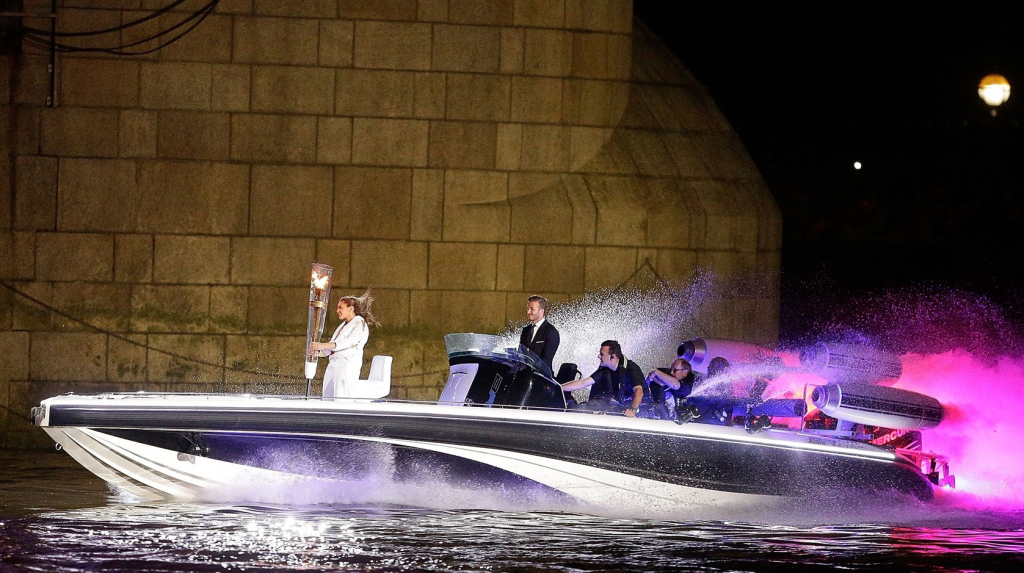 The Choice of Champions
David Beckham and young football star Jade Bailey speeding a 70 knot boat carrying the torch with the Olympic flame down the river Thames on the final leg to the Olympia Stadium.
The Olympic flame arrived from Athens to the UK on May 17 and has since travelled across the British Empire. During the final stretch former English football captain David Beckham operated the 70 knot vessel to safely deliver the flame carried by the rising football star 16 years old Jade Bailey to the Olympia Stadium.
¨The Bladerunner is a "stabilized, air entrapment monohull", designed by world leading naval architect Lorne Campbell, developed and built by British yard Ice Marine. It was chosen, not primarily for its extreme and futuristic design, but more important for its extremely smooth ride in any sea conditions.
Failure was not an option
To further enhance the safety aspects – failure was not an option – the Bladerunner was equipped with Ullman suspension seats. This to make sure that even in case of significant waves the procedure would be successful in parading the flame with dignity on its last leg to the Olympia Stadium.
A special seat was built by Ullman Dynamics to safely support the torch-bearer in her near standing position up in the bow of the boat, without anything to hold on to during the transit, except for the torch.
Large colored spotlights on the stern lit up the smoke ejecting from the "jet engines". Spray was created by a water intake device on the stern and spraying water to the sides harder with increasing speed. The spray device reduced top speed of the boat from 72 to 42 knots despite the two 300 engines.
David Beckham actually drove the boat himself most of the way even though he had never sat foot on a speed boat like this before training for three days before the event. During the last stretch in the canal the builder and former world champion boat racer Jeremy Watts had control and finally docked.
The river Thames can be challenging to navigate with a small speed boat due to large waves cased by current against wind or wake from other vessels. Hence the Bladerunner comes equipped with Ullman Suspension seats, the same seats that are the standard on the London Metropolitan Police boats and on the Royal Marines Offshore Raiding Craft, both used in fair numbers for the security during the games. Even the Bladerunner's Aerodynamics Steering Console was designed by Swedish M.D. and scientist Dr. Johan Ullman.
This last part of delivering the flame to the Olympic Stadium required months of planning and rigorous security. In the end this action scene, watched by more than 900 million people world-wide, went 100% according to plan as boat and crew fulfilled the mission with dignity.